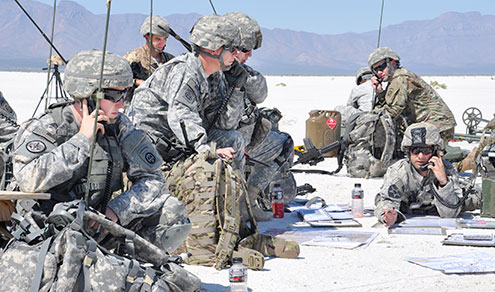 Kairos Autonomi's impact has been noted within H. R. Everett's book Unmanned Systems of World Wars I and II, part of the MIT Press series "Intelligent Robotics and Autonomous Agents".

Read Chapter 6 to see how Kairos Autonomi is assisting our nation with Postwar Transition of Unmanned Systems.
"You don't have to go into the vehicle and pull the electronics out, pull out the architecture, cut the vehicle. You don't have to start on a new build. It gives our military customers an option for a quick install and then they'll have a remote or unmanned capability for existing vehicles," said Phil Skuta, director of Marine programs at General Dynamics Land Systems.
"He said that, with a smaller force and a tighter budget, the Army's strategic expectation means it is looking closely at investing in technology platforms, like robotics, which can meet the needs of future battlefield commanders, much like it is doing now, in the air, with unmanned aircraft.
Basically, if its dull, dirty or dangerous, send in the robots, Lynch said."
"Short installation times can be fully captured in modern video tutorials. If a RIRAK takes less than 10 minutes to install, the installation video is short. Watch/Execute the video 3 times and you are a self-trained expert – anytime, anywhere."
"

Retired Army Lt. Col. Joe Bell, also on the panel, said "there's an urgent need to reduce risk [to Soldiers] today," not 10 years hence. "That's our No. 1 motivator.""
"

Kairos Autonomi, the worldwide leader in robotic applique kits, displays its latest technology, the Pronto4 Heavy, designed specifically for usage with heavy equipment and machinery."
"Kairos Autonomi has compelling robotic technology that can make a tangible difference for the military," said Lynch. "Now more than ever, the military needs robotic technology that can remove all service members from dirty, dull and dangerous tasks. If the military is not fielding robotic technology, then it is failing."
"

Recognizing the robotics industry's remarkable technical accomplishments and their makers, the Game Changer Awards distinguish the preeminent ideas percolating up through robotics technology and the inspired engineering driving the industry."
Pronto4 Agnostic Autonomy System Capabilities and ProntoMimic Software Feature — Engineering TV Part 3 of 3, Sept. 23, 2009
Pronto4 Agnostic Autonomy System Technical Components Feature — Engineering TV Part 2 of 3, Sept. 22, 2009
Pronto4 Agnostic Autonomy System Featured on Engineering TV — Engineering TV Part 1 of 3, Sept. 21, 2009
Pronto4 Agnostic Autonomy System Included in National Geographic Feature on America's Secret Weapons — YouTube Video, July 2009
Artis, LLC, used the Pronto4 system to provide a dynamic test platform for a Defense Advanced Research Projects Agency (DARPA) sponsored project. Featured in this YouTube video, the Pronto4 system enabled Artis to have an unmanned, moving vehicle during testing. You can learn more about Artis by visiting their web site. The original video aired on the National Geographic Channel on Dec. 11, 2008.
Strap-on Autonomy — Ares Defense Technology Blog, Aviation Week, Dec. 4, 2008
Robotic Car Drives U to Competition — The Daily Utah Chronicle, Oct. 19, 2007
DARPA Contestants Create IronCAD Designs — Motion System Design , Sept. 10, 2007
No Need to Choose Between Manned, Unmanned, Company Says — Unmanned Systems, AUVSI, May/June 2007
Kairos Autonomi Introduces Retrofit Kit for Transforming Vehicles into RPVs, RGVs, AGVs — Military & Aerospace Electronics, Oct. 20, 2006
Kairos Autonomi™ Releases Retrofit Kit for Unmanned Vehicle Travel — Shephard UV Online, Oct. 16, 2006
Kairos Autonomi

™

Software Enables Autonomous JAUS Compliant Interoperability — Software Blog, Oct. 16, 2006
Automate Your Car! — www.mp3car.com, Oct. 13, 2006
Small Firms in Demand by 'Sam' — Deseret Morning News, May 27, 2006