Pronto4™ Agnostic Autonomy System for Existing Vehicles or Vessels

The Pronto4™ Agnostic Autonomy System Series 4
(P/N: KA100-08; Planar)

PRODUCT INFORMATION
Pronto4 Data Sheet

Contact Us
PRONTO4 SERIES 4 SYSTEM OVERVIEW

The Pronto4™ Series 4 Vehicle Agnostic Autonomy System is the latest generation of the highly successful Pronto4 system. The standard Pronto4™ Series 4 (P4S4) system includes the following components:
The Pronto4™ Series 4 (P4S4) has been developed using proven, existing technologies from the Pronto4 Series 3 (P4S3), while also incorporating additional capabilities developed by Kairos Autonomi and requested by our loyal customer base.

The P4S4 utilizes a modular design with standards-based interfaces that are widely supported. This enables the P4S4 to achieve interoperability, upgradeability, vendor independence, maintainability, technology insertion, reusability, removal of obsolete modules and long-term supportability, as well as use open standards such as the Joint Architecture for Unmanned Systems (JAUS).

This modularity begins with the integration of 3 primary module types around a basic frame:
Computing module
Services module
Utility module
The modules slide into bays that have connections to the centralized P4S4 spine. More than 40% of the P4S4 surface area is heat sink. Each corner provides an area for the actuator cables to be mounted on "slippers," easily removable brackets designed specifically for vehicle actuation attachment.

Additional specifications include:
Weight: 22 lbs. / 10 kg
Dimensions: 13.25" x 17.25" x 5"
Power: 9-32 vdc
100% conduction cooled
Mean Time To Replace/Repair (MTR) is 30 minutes or less!
Computing Module
The computing module contains an industry standard computing platform, as well as a 14 port USB hub and an 8 port Ethernet Switch. Video management and user interface, (VGA, PS/2 Key/Mouse, etc.) can also be accessed from this module.


The computing module can be removed from the P4S4 as a pluggable unit. This provides a means to de-classify an optionally Unmanned Ground Vehicle (UGV) in minutes. All software and operation data is removed when this module is removed.
Services Module
The services module contains the local controller. Local motor control, some safety logic, routing login and other mainframe common services are performed in this module.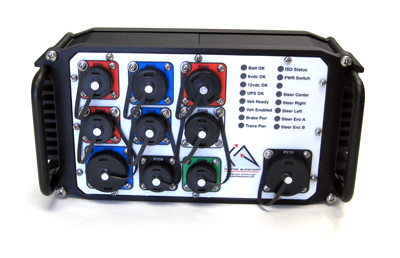 Utility Modules
Standardized utility modules are the most flexible part of the P4S4. Measuring 2.125" x 3.5" x 4", the utility modules can house motor modules, sensors, interfaces, and other 3rd party products. The modules connect to the P4S4 spine via a 48 pin Euro Card connector. Connector pin out information and developer circuit boards are available for 3rd parties to integrate their own technology within a utility module.


The utility modules communicate with the services module via serial device bus (SPI, I2C, PWM, USB or RS-485).